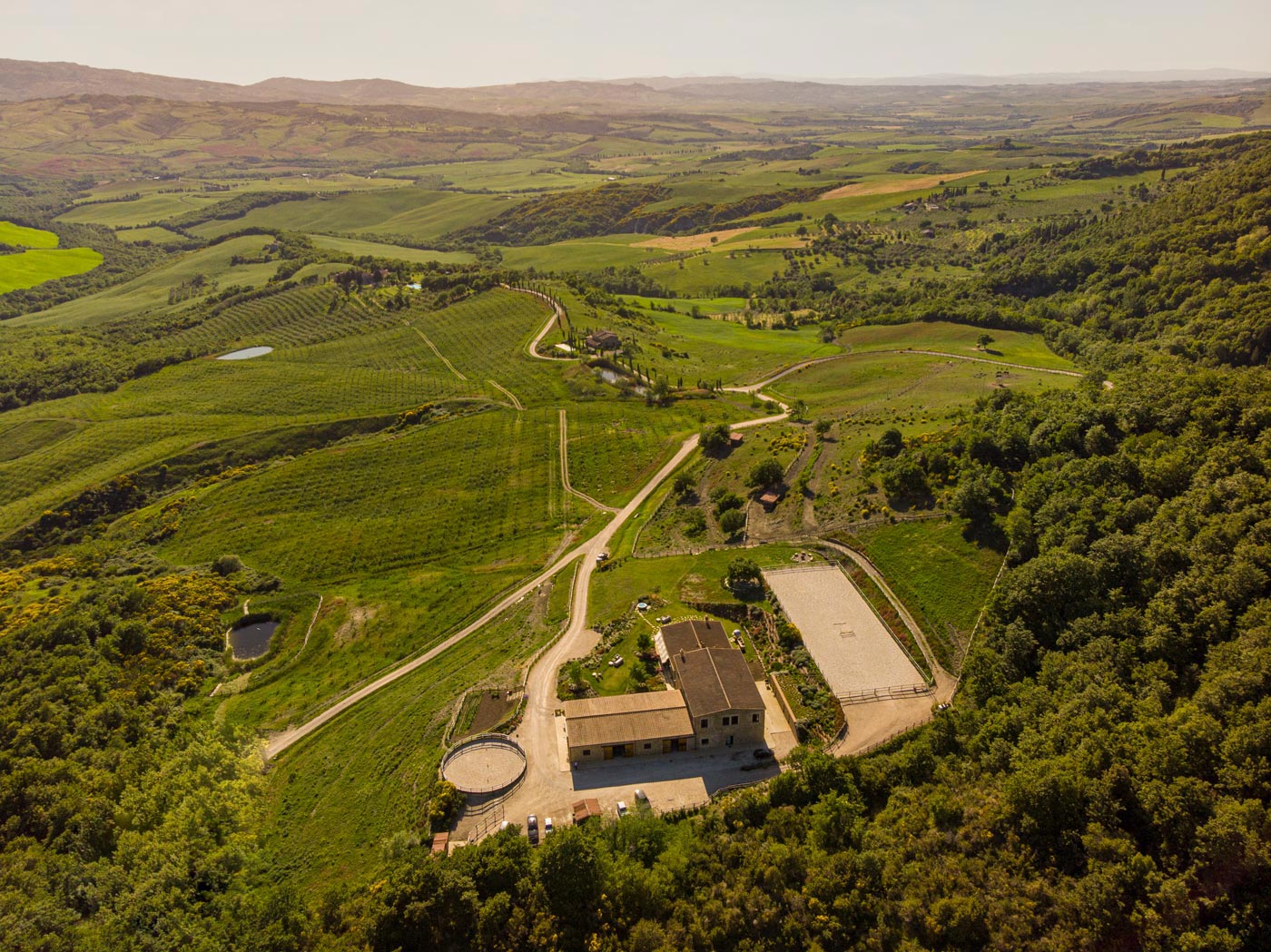 Tuscany Equestrian Prestigious
Equestrian Center in Val d'Orcia
THE IDEAL PLACE FOR YOU AND YOUR HORSES
Our Tuscany Equestrian equestrian center is a luxury riding school in Tuscany completely surrounded by the breathtaking views of Val d'Orcia: an ideal place for amateurs and agonists. Stables, equipped areas and highly trained staff will be at your complete disposal. You will also be free to let your horses roam in nature, in over 5 hectares of fenced paddock. Equipped with all the necessary equipment for training and for the well-being of horses, it offers a spectacular experience in close contact with nature right in the heart of the Tuscan countryside.
Fenced paddock with shelters for shelter
Equipped 55x22m Panoramic riding school
Panoramic rod with
silica sand
Last generation Rinco stable with 4x3 box
Paddock
HORSES IN FULL FREEDOM
Our philosophy is to recreate freedom of movement, within our 5 hectares of fenced land, which has an extremely positive effect on horses.
Stables
of prestige
SPACIOUS AND BRIGHT BOX
We offer our guests a state-of-the-art stable with very bright and well-ventilated 4x3 boxes, a large riding arena of 55mx22m and an 18m radius rod with silica sand.


Equipped spaces
FOR THE TRANSPORT OF HORSES,
CAMPER
AND MOTORHOME
For all those who love to enjoy their holiday in complete freedom without sacrificing comfort, Tuscany Equestrian offers an area dedicated to campers to stop and refresh themselves in front of a spectacular panorama.
Horse boarding
COMFORT AND CARE FOR YOUR HORSE
For those who come to PODERE VAL D'ORCIA with their horse, they will be able to take advantage of dedicated care:
- cleaning of the box 3 times a day
-all day foraging
-if required, the horse will go out daily to the paddock or to the ring, depending on the season
-use of facilities for its hygiene
Horse Experiences
TOURS, WALKS AND MUCH MORE
Discovering a series of experiences organized to make you experience unique emotions in the world of horses. Practical riding and trekking lessons in the area are just some of those we offer.
Learn more
Equestrian Academy
FOR COMPETITORS AND ENTHUSIASTS
The equestrian academy is the perfect place to combine fun and competition. Improve technically and deepen your relationship with the horse, respecting the criteria of well-being. Lessons for athletes at a competitive level under the careful guidance of teams made up of instructors, trainers and technicians.
Learn more